Maclean takes questions at LUHC Select Committee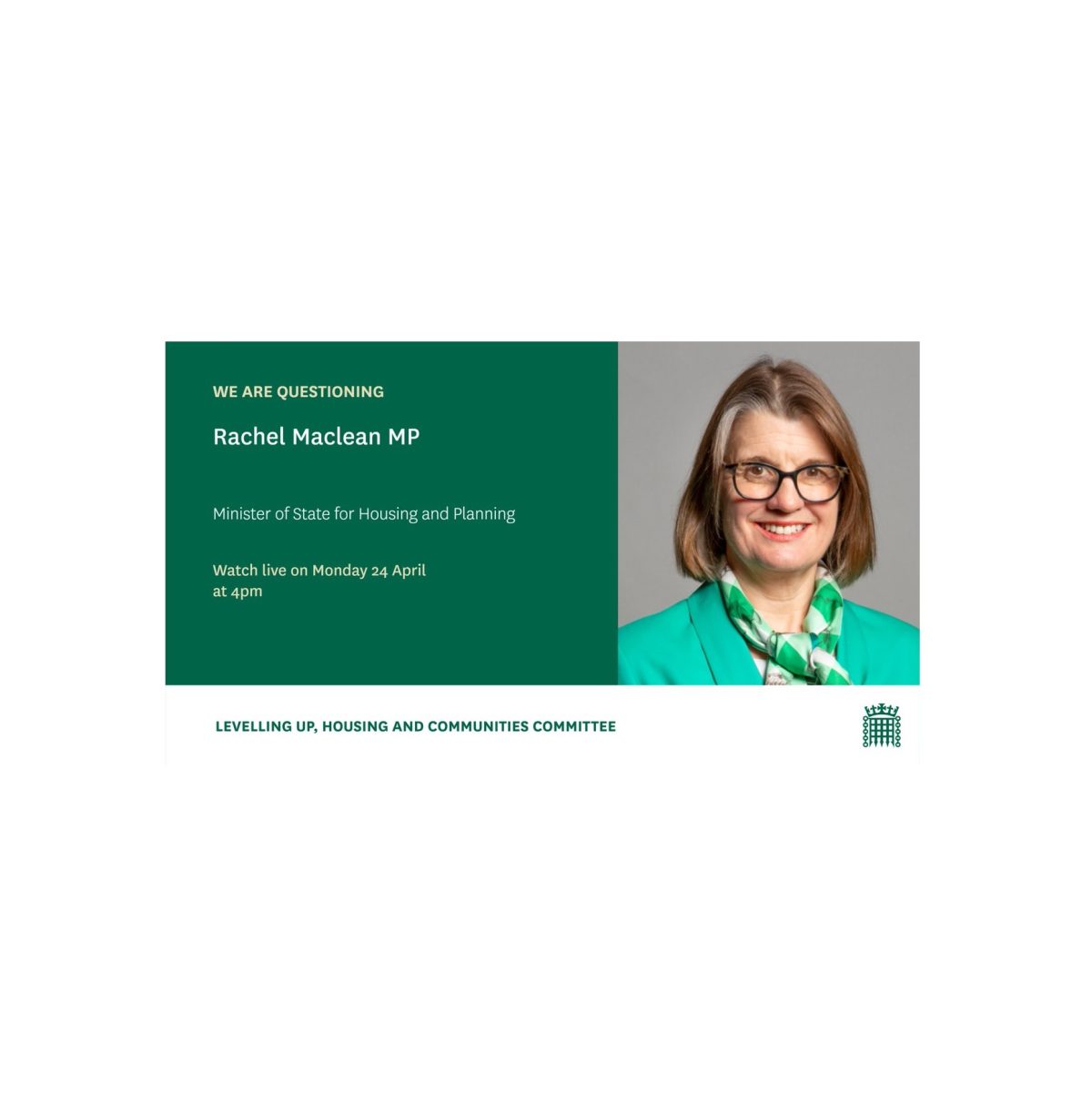 Last Monday, Rachel Maclean MP – the fifth Minister for Housing and Planning in the space of a year – sat before the Levelling Up, Housing and Communities Committee to answer questions on the Government's proposed reforms to national planning policy.  Also in attendance was Emran Mian, Director General for Regeneration at DLUHC.
There were three main points that Maclean and Mian wanted to make clear: 1) that the proposed reforms are designed to simplify the planning process; 2) that everything must be done with the consent of communities; and 3) development needs to be plan-led, not appeal-led.
Other key points from the session:
The impact of making national housing targets advisory rather than mandatory came up quickly and often. Both Maclean and Mian disagreed with the recent studies suggesting this change will lead to a decline in housing numbers, and indicated the department was in the process of formulating a response to those studies.
Maclean confirmed there would be no national review of the Green Belt, nor an expectation for councils to carry out their own Green Belt reviews.
Maclean said there would be changes to how councils can respond to and judge applications. New regulations will enable councils to refuse planning permission if developers are known to have a track record in failing to provide infrastructure, or damaging the environment.
Maclean said the Government would carry out changes to increase morale and increase the retention rate in council planning departments. These include increasing planning fees and using a national task force to assist the worst-affected councils with planning backlogs.
Maclean suggested that digitisation would solve a lot of issues in the planning industry, as it would streamline and simplify the process.
Maclean said the proposed Infrastructure Levy would be rolled out carefully with a 'Test and Learn' approach, and was intended to make sure developers are held to their promises and aren't able to negotiate away their infrastructure obligations.
Throughout the session, Maclean often had to delegate to Mian for more detailed responses, or simply wasn't aware of certain areas she was questioned on, regularly deploying the phrase, "that was before my time", and admitting that she struggled to keep up with all the consultations that DLUHC are currently carrying out.
There was also no indication from her or Mian when the department's consultation response would be published – not even an estimate.
Hopefully we might see some progress on the Government's reforms once this week's local elections have taken place. However, there was no indication at last week's session of any rethink on the basic thrust of the reforms, so it appears the Government remains set on pursuing this new course through to the general election in either 12 or 18 months' time.
Previous Articles