Brokenshire: Don't "talk down" housing market before Brexit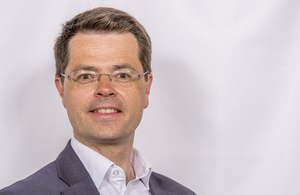 Secretary of State for Housing, Communities and Local Government James Brokenshire has warned against "talking down" the British housing market in the run-up to Brexit.
Mr Brokenshire made the remarks as uncertainty surrounding the housing market continues ahead of key votes in the House of Commons on the Prime Minister's Brexit deal, and following revelations that Foxton's – London's largest estate agency – have reported a pre-tax loss of £17.2 million for 2018. Meanwhile nationwide house prices dropped 0.1% in February compared to January.
Mr Brokenshire was speaking during an exchange in the House of Commons with Labour's Shadow Housing Secretary John Healey, who asked how many fewer homes would be built per year in Britain post-Brexit.
Mr Healey said:
"The Bank of England says that house prices could fall by 30% in a no-deal Brexit, almost double the fall after the global banking crisis.
"Now a Labour government kept Britain in business after that global financial crash with a big stimulus programme and a new low-cost housebuilding programme at the centrepiece.
"If the Secretary of State still cannot say no to a no deal, will he commit to a new stimulus of at least £4bn for new low-cost homes next year so that come what may, those who need new homes will not pay the price for this government's mess of Brexit?"
In response, Mr Brokenshire outlined a much more positive vision of the current and future state of the housing market. The Secretary of State said:
"I think the Right Honourable Gentleman should be positive as to the future for our country. And, indeed, as we look to secure a deal that can command support from this House to ensure that our country – our United Kingdom – can look proudly to the future.
"Rather than talking things down, we should be talking up what we can do as a country and yes, securing a deal that takes us out positively, that ensures that we have that bright, positive future.
"But what I would say to him is that we have a £9bn affordable homes programme, £2bn beyond that in terms of long-term investment in affordable homes too, as well as the new flexibilities and freedoms that councils will have to borrow to build.
"It is that new freedom to build the homes our country needs and the support this government is giving to achieve that."
Reports of a slowdown in the housing market have been increasing in recent months, and in the run-up to this week's key Brexit votes in the House of Commons the housing issue has once again become a talking point in politics.
Whilst the Secretary of State is at pains to stress the positives of his Government's performance in delivering new affordable homes, it is clear that the housing shortage, conflated with uncertainty over Brexit, is combining to cause a headache for the Ministry, which Labour's John Healey has sought to take advantage of.
Tomorrow evening we will find out whether the current Brexit fog is set to clear…or continue.
Previous Articles