New Secretary of State for Housing, Communities and Local Government announced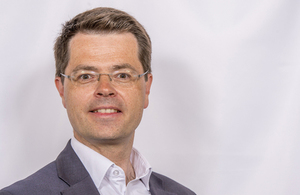 Following the resignation of Home Secretary Amber Rudd and Sajid Javid's promotion to the Home Office, James Brokenshire has been appointed as the new Secretary of State for Housing, Communities and Local Government.
The new Planning Minister is an ally of the Prime Minister, and previously served five years under Mrs May as a Home Office Minister.
Commenting on his appointment, Mr Brokenshire said:
"I am honoured to have been asked by the Prime Minister to serve as Secretary of State for Housing, Communities and Local Government. I am determined to get Britain building the homes our country needs so everyone can afford a place to call their own.
"One of my top priorities is going to be ensuring everyone affected by the Grenfell Tower fire gets the support they need and we learn lessons from the tragedy so something like this can never happen again.
"As the son of a former chief executive of a council, local government is in the blood for me. So I look forward to working with councils across the country by supporting them to deliver quality public services and build strong integrated communities."
Mr Brokenshire, the Member of Parliament for Old Bexley and Sidcup, had been a serving Cabinet member as Secretary of State for Northern Ireland until January 2018, before stepping down due to ill health. Having spent 18 months at the Northern Ireland Office attempting to form a power-sharing agreement between the parties, Mr Brokenshire is no stranger to complex and daunting briefs such as addressing the housing crisis.
The Prime Minister will be reassured by Brokenshire's reputation in Parliament as a competent, no-thrills technocrat. Her leadership increasingly relies heavily on avoiding divergences within her Cabinet, and unpredictable ministers have the potential to upset this balance. In addition, James Brokenshire has very little history of campaigning or commenting on housing issues, which makes him an ideal candidate to continue the policy agenda carved out by his predecessor Sajid Javid.
Previous Articles