Special Edition: Party Conference Season Round Up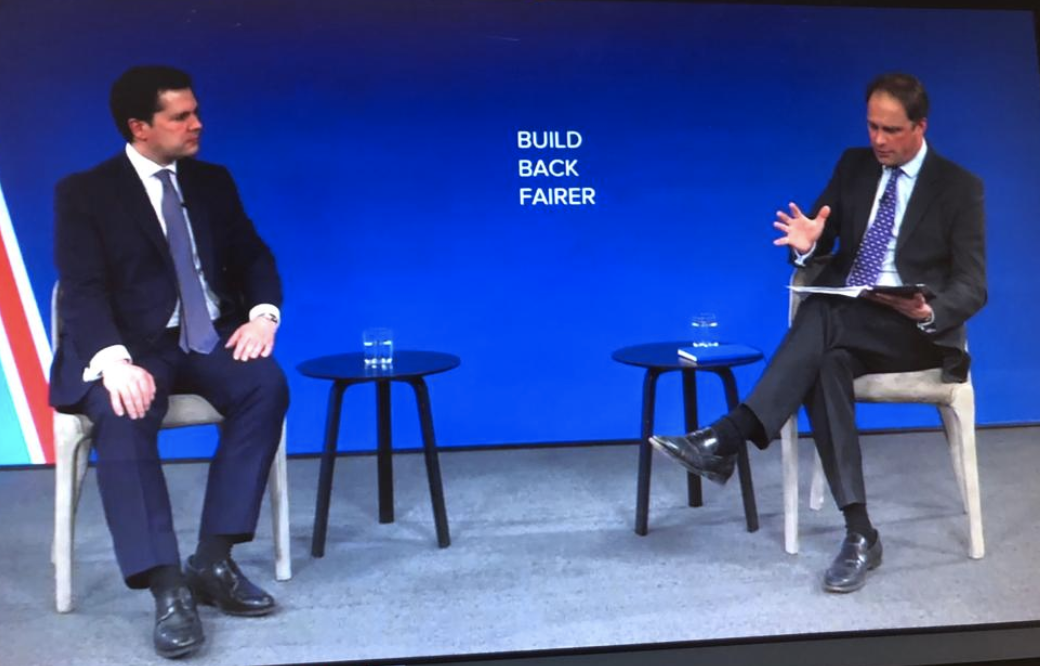 Conservative Conference Round Up
Speaking to Nicholas Boys Smith (Chairman of the Government's newly commissioned Design Review Group) in the main auditorium of the virtual Conservative Party Conference, Secretary of State Robert Jenrick discussed generational housing inequality and the Party's aspirations for everyone to have a home, and to widen home ownership.
The Secretary of State felt a Conservative Government had 'a duty to build', and the Government's proposed planning reforms, coupled with investment in brownfield land and the cut in Stamp Duty, would help achieve this. He also emphasised the importance of community and protecting the most vulnerable, for example the reduction in rough sleeping during the pandemic.
A discussion took place on the importance of town centre regeneration; the 'special responsibility of not just meeting immediate housing needs, but the responsibility of thinking how homes and communities will fare in the long term'; and the importance of making new homes beautiful, sustainable and environmentally friendly, with quality and design genuinely embedded within the planning system to help create a sense of character, identity and place for new developments.
Nansledan, the extension to the Cornish coastal town of Newquay on Duchy of Cornwall land, was used as an example of the importance of greening our towns and cities. Robert Jenrick also highlighted the importance of ready access to play areas and open spaces for social housing; that no new homes should be built unless they met minimum space standards; and his passion for developers to use design codes which might enable modern developments to emulate Bath, Bournville and Belgravia.
It is clear that the Secretary of State feels a duty to build more new homes, and it is the moral mission of a Conservative Government to set the bar high in terms of completions per year.  What is equally evident from the Secretary of State's keynote address to the Conservative Conference is his passion for good design and his desire to embed good design within the planning system – to make good design compulsory – in the hope that well-designed and well-landscaped developments lead to fewer objections at planning committee.
It is too early to see whether embedding Design Codes into the planning system will lead to higher numbers of homes completed – and a resurgence of 'quality' developments like those in Bath, Bournville and Belgravia – or fewer new homes as developers struggle with viability under the proposed new system. Traditionally, raising the quality of a product leads to a price increase, which does not always lead to a mass market!
Lib Dem and Labour Conference Round Up
Before the Conservative conference this week, Labour and the Liberal Democrats also welcomed their members to online events.
Going first, the Lib Dems were in far lower spirits than this time last year, when Jo Swinson proclaimed she was standing to be Britain's next PM. New leader Sir Ed Davey gave an emotional keynote speech on his personal experience as a carer for his mother and now his son, leading him to say he will be the champion for carers.
The Government's proposed planning and local government reforms were too much of a red rag to a bull to be ignored. Sir Ed committed during his Leader's Q&A session to vigorously oppose the reforms outlined in the Planning White Paper, while a motion to oppose the Government's planning "power grab" was passed with a thumping majority. Speakers, including many local councillors, decried the attack on local democracy and in tried-and-tested fashion pinned the blame for the housing crisis on developers and land-banking. The Lib Dems have long been the self-declared party of local government, and it looks as though this commitment to grassroots politics is here to stay under the new leadership.
Next up was Labour, who also have a Knight of the Realm as their new Leader, Sir Keir Starmer. The conference did not focus heavily on the Planning White Paper, which Sir Keir had declared a "Developers' Charter" when first published.  Instead, the emphasis was on establishing the overall change of direction the new leadership wants to bring to the party following the Corbyn years. With Labour and the Conservatives now neck-and-neck in many polls, Sir Keir was looking to reach out to those former-Red Wall constituencies were captured by the Tories in December 2019.
In the area of housing, the party's focus was on ending homelessness, with Shadow Housing Secretary Thangam Debbonaire participating in a fringe event on housing as a human right. And recently in Parliament, Labour failed to block an extension to Permitted Development Rights that allows a further two storeys to be added to properties without permission. Expect renters' rights, social housing and the quality of homes to be the main theme for Labour going forward.
Previous Articles