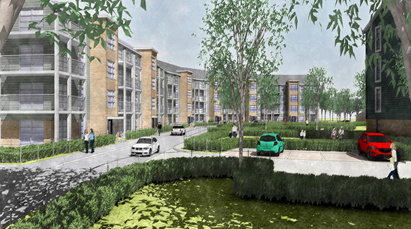 Background
Our client sought to submit a reserved matters application with regard to a 130-home development for land in Chertsey, in the Surrey Borough of Runnymede. The outline application had been consented in 2015.
Challenge
The access for the consented outline scheme ran through a residential street. There was a real risk that residents opposed to the scheme because of this access would use the reserved matters application as an opportunity to voice their opposition to councillors on access grounds, potentially derailing the progress of the development.
Solution
SP Broadway wrote to residents around the site to notify them of the reserved matters application. This letter stressed that the access had been approved and would not be reconsidered. It also highlighted the high quality design of the new homes, and provided SP Broadway's contact details in case residents had any questions.
We created and maintained a project website, containing up-to-date information on the reserved matters application. The website address was highlighted in the notification letter to residents, providing them with a source of extra information if they required it.
We responded to all resident queries in the run-up to the determination of the planning application, ensuring that all issues raised were managed and not directed at councillors.
We wrote to all Planning Committee members before the determination date, clearly setting out how the reserved matters application conformed to the outline consent given.
Result
In November 2016 the reserved matters application was considered by Runnymede Borough Council Planning Committee. With resident opposition addressed through intensive consultation, and the merits of the scheme established in members' minds, the Committee approved the application.