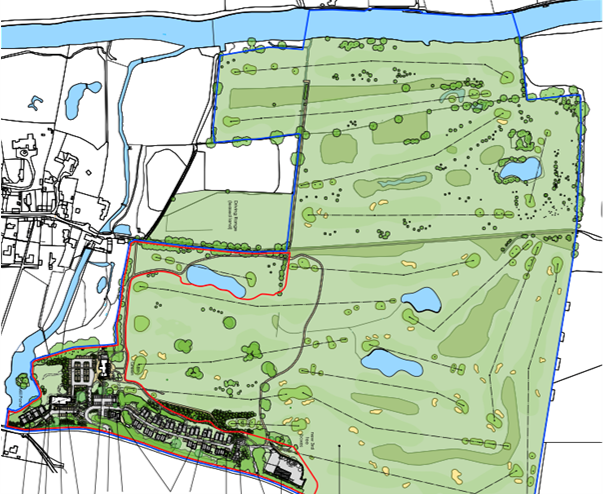 Background
Our client sought assistance regarding the restructuring of tourist facilities at an Upper River Thames golf club and former hotel also located within the Chilterns Area of Outstanding Natural Beauty, this included the creation of 33 holiday lodges within the grounds, a spa within the former hotel building, and extending the golf clubhouse.
Challenge
Having withdrawn a previous application to revisit the scale and design of their proposals (which originally included the demolition of the former hotel) due to significant local opposition, it was important to reset a number of stakeholder relationships. In particular, the Chilterns Conservation Board (CCB) and the Parish Council had been especially vociferous in their opposition to the scheme, arguing harm to the AONB. It was essential for us to arrange meetings with these stakeholders and have the opportunity to discuss with them how the proposals had been changed since the initial application.
Solution
We contacted all the key stakeholders for the site to request meetings, and met with key parish councillors and ward members in the pub. A detailed email exchange explaining the new scheme was also undertaken with another ward member, unable to attend the meeting.
We facilitated a pivotal phone call between the CCB (who had initially been opposed to discussing the proposals) and the client's planning consultant, explaining the new scheme and allaying previous concerns regarding the amount of development.
With stakeholder and parish support, we then also generated letters of support from residents and businesses highlighting the positives of the development including increased tourist footfall for shops in the neighbouring town and highlighting the extensive environmental credentials of the scheme. Twenty-six copies of these letters were sent to the planning officer and listed on the SODC planning portal.
Result
Although we were prepared for the scheme to go to committee, the planning officer felt sufficiently reassured by the political and community support to consent the scheme under delegated powers in August 2020 (the same officer who had opposed to the original scheme). Additionally, the Chilterns Conservation Board commended the "engagement with various stakeholders" in their comments on the application.