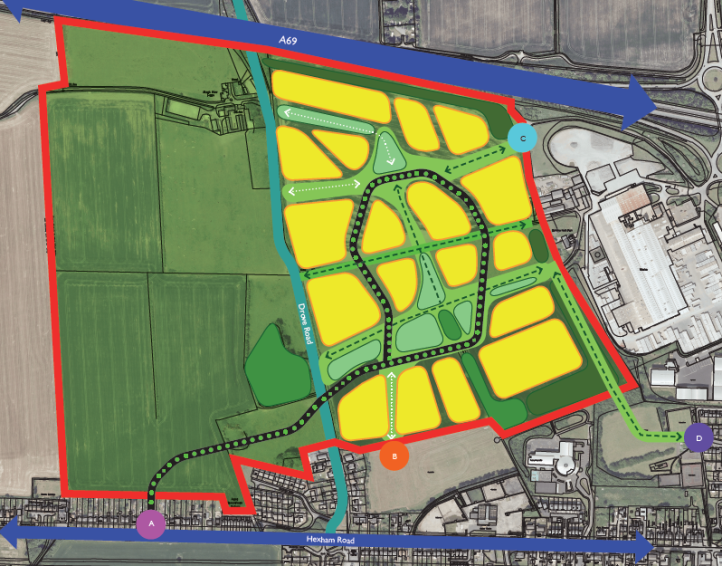 Background
Newcastle City Council proposed an allocation for new homes on Green Belt land in the village of Throckley as part of the NewcastleGateshead One Core Strategy. The land has been owned by our client since 1735, and all development in Throckley has been the result of gifts of land by our client over the last three centuries.
Challenge
The allocation was opposed by residents whose homes backed onto the land, who had formed a campaign group to fight the inclusion of the site in the Core Strategy. SP Broadway was appointed to help our client keep the site allocated in the Core Strategy.
Solution
SP Broadway organised a meeting with the Newcastle City Council members for Throckley to understand their views on our client's site. While they could see the merit of new housing in the area, they were troubled by the amount proposed and felt there were better sites elsewhere.
We organised a meeting with leading representatives of the campaign group to understand their views on the site. This established that the group was opposed to any sort of housing on our client's site as it was Green Belt land.
Given that local council members and residents were less than enthusiastic, we decided to focus on winning over other Newcastle City Council members to the idea of development on our client's site. Ahead of key cabinet and council votes on the Core Strategy we sent a detailed briefing letter setting out the merits of development on the site and urging its retention in the Core Strategy. Both the cabinet and the full council subsequently voted to submit the Core Strategy to the Planning Inspector with an allocation on our client's site.
During the Planning Inspector's examination of the Core Strategy it became clear that a resource was needed to provide a source of information for residents about our client's site. We therefore helped to create a new section of our client's website dedicated to Throckley, setting out clearly the key aspects of the proposed development and promoting the benefits. We also monitored local newspapers and online media to keep our client aware of any public discussion of the site.
Result
The NewcastleGateshead One Core Strategy was adopted by Newcastle City Council and Gateshead Council in March 2015 with an allocation for 550 homes on our client's site.
SP Broadway continued to provide political advice to our client as they submitted an outline planning application for 580 homes on the site. In July 2016 the application was approved by Newcastle City Council Planning Committee by ten votes to one.