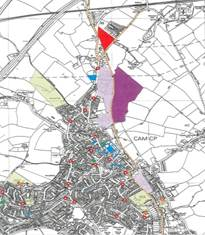 Background
Our client was seeking to build 71 homes on 7 acre site to the north of Cam, Gloucestershire, a large working village near the Severn estuary.
Challenge
The site lay outside the defined settlement boundary of Cam, and Stroud District Council claimed that it already had a 5-year supply of housing land.
Solution
Taking a 'bottom up' approach to political consultation, we met first with the appropriate ward members on Cam Parish Council, followed by members of Stroud District Council including the Chairman of the Planning Committee.
We impressed upon them that the proposed homes, although outside Cam's settlement boundary, would have little impact on the character of the area, were in a suitable location to integrate with the community, and were a deliverable addition to the housing supply.
Result
Although Stroud District Council Planning Committee rejected the proposal, our client won consent on appeal in January 2013.
In his ruling, the Planning Inspector agreed that the proposal would cause 'limited harm to the character and appearance of the area', was 'broadly compatible with the…aim of locating development in sustainable locations', and that Stroud District Council was 'unable to demonstrate a 5 year supply of housing land'.