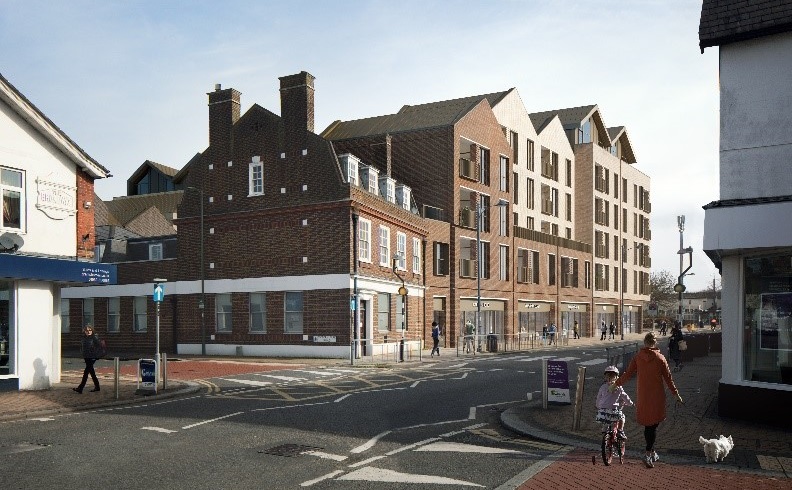 Background
Our client was seeking to redevelop a tired parade of disused shops next to Addlestone railway station, providing a new flexible retail space and 74 apartments.
Challenge
Though the site had been allocated in the draft Runnymede Local Plan, there were concerns about the height of the proposed buildings.
The site was next to a level crossing, which created considerable tailback during peak hours. As a result, the Council sought to minimise the number of parking spaces on site as part of a wider aim to deter car use, which residents did not agree was the right approach.
The site formed part of the entrance into Addlestone, and was seen by the Council as a potential landmark building which required a high-quality design. This created issues of viability, with members concerned about the reduction in affordable homes.
Solution
 We supported the client, planning consultant, and architect with a presentation to Runnymede Borough Council Planning Committee.
SP Broadway organised a two-day public exhibition, and invited approximately 3,500 residents and stakeholders. The exhibition was held in one of the disused shops on the site, maximising the opportunity for local residents, commuters, and weekend visitors to the High Street to attend – this attracted a wider demographic, and the feedback received showed a majority of respondents supported the redevelopment.
We liaised closely with a local shop that had a strong Facebook following among Addlestone residents, sending them images of the proposals and informing them when the application had been submitted.
Result
 The Committee spoke very positively about the scheme, and its contribution to the regeneration of Addlestone. It was approved by 12 votes to 1, subject to an agreement on the affordable housing provision with officers.