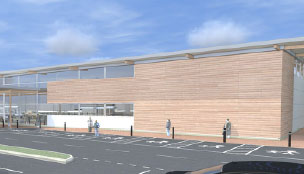 Background
SP Broadway was instructed to undertake a concise programme of political and community consultation to support the redevelopment of an industrial site in Leominster to house a 45,000 sq ft supermarket.
Challenge
There was a competing application to build a food store on another site in Leominster. Both schemes were vehemently opposed by the local Green Party, and both schemes had been refused once before. We had to do two things: demonstrate that there was real local support for a new supermarket in Leominster, and demonstrate that our client's proposal was preferable to the competing site.
Solution
As soon as the revised application was submitted we wrote to Herefordshire Council Planning Committee members to let them know the changes made and extol the virtues of our client's scheme.
Media monitoring of the local newspaper clearly showed there were Leominster residents who supported a new supermarket. We therefore took out a full-page advertisement in the paper and wrote an open letter to residents, setting out the key benefits of our client's proposal and urging supporters to contact the council and make their voices heard.
We also made a presentation to Leominster Town Council on behalf of our client. Though it had recommended refusal of the initial application and had a substantial Green Party contingent, the town council voted to support our client's revised proposal. It also voted to refuse the competing proposal, having supported it the first time around.
In the week before the committee met we drafted and sent a hard-hitting briefing letter to all Herefordshire Council Planning Committee members, demonstrating the advantages of our client's site over the competing proposal and highlighting the support of Leominster Town Council and residents.
Result
Both schemes were decided at the same meeting of Herefordshire Council Planning Committee in September 2014. The competing proposal was refused unanimously, while our client's proposal was refused by the narrow margin of 10 votes to 7. We succeeded in helping to knock the competing proposal out of contention and demonstrate real support for the benefit of our client, which was encouraged enough to consider an appeal.