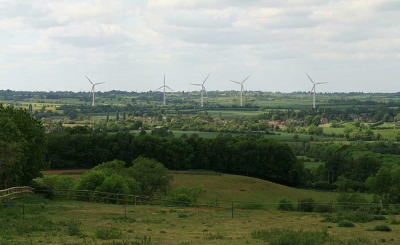 Background
An energy company was seeking to gain consent on a 4-turbine wind farm near Milton Keynes in Buckinghamshire. SP Broadway was brought on board to undertake political and community consultation to ensure our client's application complied with consultation best practice.
Challenge
The proposals were opposed by a dedicated and vocal group of local residents.
Solution
SP Broadway initially met with Councillors and Parish Council representatives from the six villages that neighbour the site, following these initial briefings SP Broadway drafted and sent out a letter of invitation to a public exhibition to 2961 residents, retail and commercial premises.
Throughout the project we liaised with supportive local residents.
We hosted an exhibition with a total of 268 residents recorded in attendance. 138 feedback forms were completed and most of those who did – 55.07% – said they were either supportive or very supportive of renewable energy. 43.47% of people also said that they were either supportive or very supportive of wind power. The exhibition boards were subsequently placed on a special Wind Farm website, set up at SP Broadway's urging.
Result
Meterological mast application
In October 2011 our client submitted an application to erect a temporary meteorological mast to test wind speed prior to the main turbine application. To aid the application SP Broadway drafted and circulated a letter to all Councillors on the Aylesbury Vale District Council Development Control Committee, explaining about the specifics of the met mast and why Councillors ought to support its construction. Despite intense lobbying, councillors voted to support the application.
Wind farm application
In March 2013 the Aylesbury Vale District Council Strategic Development Control Committee met to decide on the application: the first of many wind turbine applications in the Aylesbury Vale area.
The decision split along party lines with the Conservative majority (6) supporting Officers' recommendations on landscape, residential amenity and access grounds; and Lib Dem councillors (3) seeking to overturn the Officers' recommendation.