General Election: SP Broadway predictions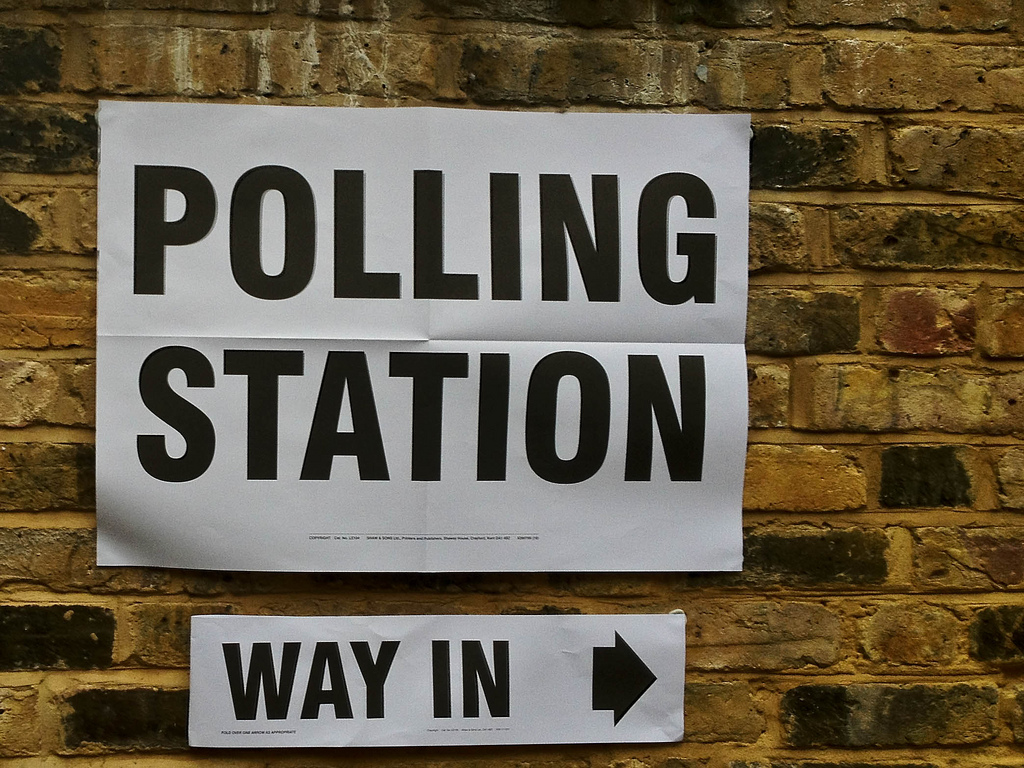 In the early hours of Friday morning we will know the shape of the next Government. What should planning and development professionals expect?
Everyone at SP Broadway has a political background, and many of us have been on the campaign trail over recent weeks wearing our respective Party colours. Drawing on our experiences, both on the trail and in the office, we (tentatively, given the electoral shocks of May 2015, June 2016 and November 2016!) offer up two predictions:
1) Turnout is key
Over the course of the five-week election campaign the polls have shown a clear trend – an increase in support for the Labour Party, up from an average of 25% in the polls at the start of the campaign and now hovering around 35%. Popular punditry suggests this is largely the result of a failed Manifesto launch by the Conservatives, with a high-profile Conservative proposal to shift some of the burden of social care funding onto homeowners proving unpopular with voters. Certainly there appears to have been a surge in Labour support – on Thursday the Party managed to raised £400,000 in a day from small donations.
Whilst agreeing on the increase in the number of people saying they will vote Labour, pollsters are divided about what impact this will have on Election Day. Some suggest that the Labour increase will be reflected in seat numbers, with one pollster, YouGov, going so far last week as to predict a Hung Parliament. Other pollsters predict a healthy Conservative majority of anything up to 100 seats.
Turnout is the differential. Pollsters predicting a big Conservative majority are using models that are based on the idea that people who say they are going to vote Labour are far less likely to go out and actually vote than people who say they will vote Conservative. ICM is one such pollster – one of their polls last week showed the Conservatives leading by only three points. However, they predict that many potential Labour voters will stay at home on the day, and suggest a Conservative lead of 11% at the polling booth.
To summarise: the polls are giving us a clear message – if all those who currently say they are going to vote Labour go out and do so on Thursday, Theresa May will win only a small majority (or even face the prospect of a Hung Parliament if YouGov are to be believed). However if – as was the case in 2015 – potential Labour voters stay at home, Theresa May will have a much more healthy majority, thanks to more reliable Conservative voters.
2) Whatever the outcome, planning policy is not likely to change much
Whilst debate rages about the likely size of a Conservative majority, Theresa May is still widely expected to lead a Conservative Government on the morning of 9 June, implementing the Conservative Manifesto.
That Manifesto has little new to say on planning. It commits the Party to implementing February's Housing White Paper, and to delivering one-and-a-half million new homes over six years, roughly the same rate of delivery as pledged by David Cameron in 2015.
The messages of Tory candidates on the doorstep has been emblematic of this safety-first Conservative approach to planning in the campaign. Rather than highlighting new housing policies, most candidates have opted to flag-up the Manifesto's commitment to the oldest Conservative planning pledge of them all – protecting the Green Belt.
Take the commitment of Alec Shelbrooke (Conservative candidate, Elmet and Rothwell) to:
'Fight Labour's Green Belt landgrab in and around our villages'
Or a recent Twitter report from Ed McRandel, Conservative candidate for St Helen's South (complete with photo of him looking grave in a field!):
'Spent today talking to the residents of Eccleston about the importance of the Green Belt. The Labour council's plans are unnecessary & wrong.'
Or even the candidate who still officially serves as Housing and Planning Minister, Gavin Barwell, whose constituency leaflets demonstrate a passionate commitment to the Green Belt: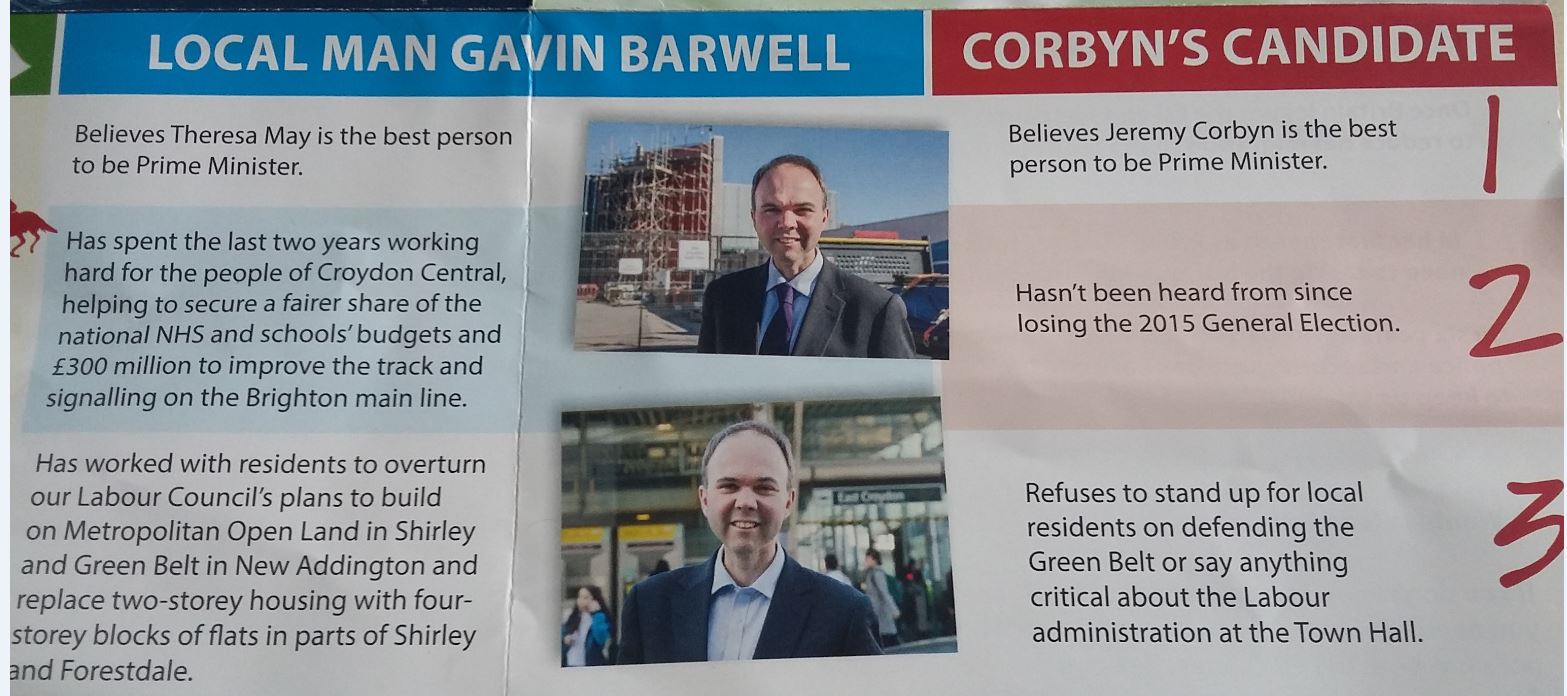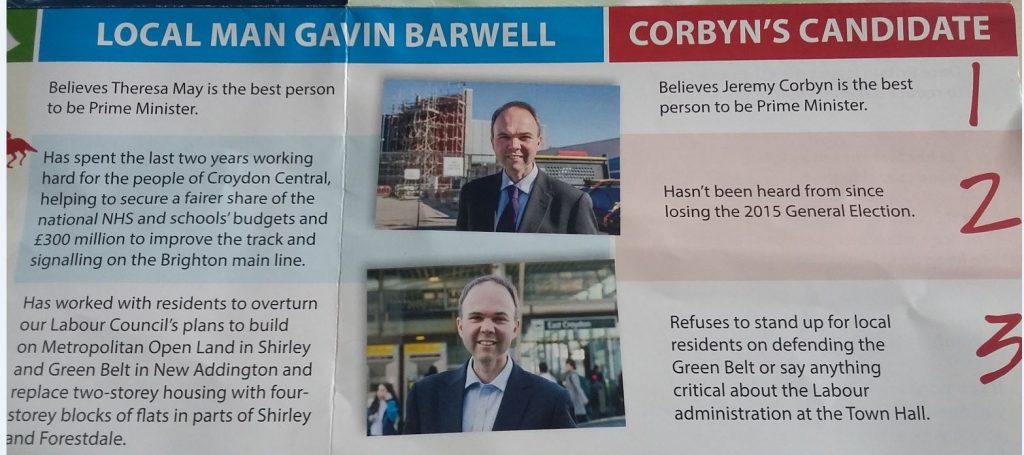 Mr Barwell is reportedly facing a fierce battle to retain his marginal Croydon Central seat – it will be interesting to see whether he passes through the twin trials of the election and a subsequent Ministerial reshuffle to retain his housing portfolio.
Individual constituency battles aside, if Theresa May does indeed lead a newly elected Conservative Government on 9 June, planning is clearly not an issue that is going to be allowed to rock the boat.
And the alternative? If the polls (aside from YouGov) are wrong and a Hung Parliament offers Jeremy Corbyn the chance to form some kind of administration, perhaps in alliance with the SNP, planning policy is also unlikely to change hugely. Labour's Manifesto is conservative on the issue, and minority Government doesn't lend itself to radical policy changes, especially when conducted in alliance with a Party that isn't able to vote on English planning matters.
After the change-heavy Cameron years, planning policy looks set to settle down.
Predictions made, we await the results…
Whatever the outcome, we are on-hand to help steer your projects through the changing politics of planning, to consent. Why not get in touch?
Previous Articles